Peerless is a comic book series that takes place in the Bronx during the summer of 1977.

Kiara Moore is a Wing Chun master who fights her way through the city's toughest gangs to stop the execution of her lover at the hands of an occult martial arts clan hell-bent on stealing her secret fighting technique.

Kris found inspiration for this story in music he was writing (listen here) and favorite Saturday matinee films like The Warriors, Big Trouble in Little China, Game of Death, and Enter the 36th Chamber as well as Pam Grier films like Coffy and Foxy Brown.


You can purchase a copy here.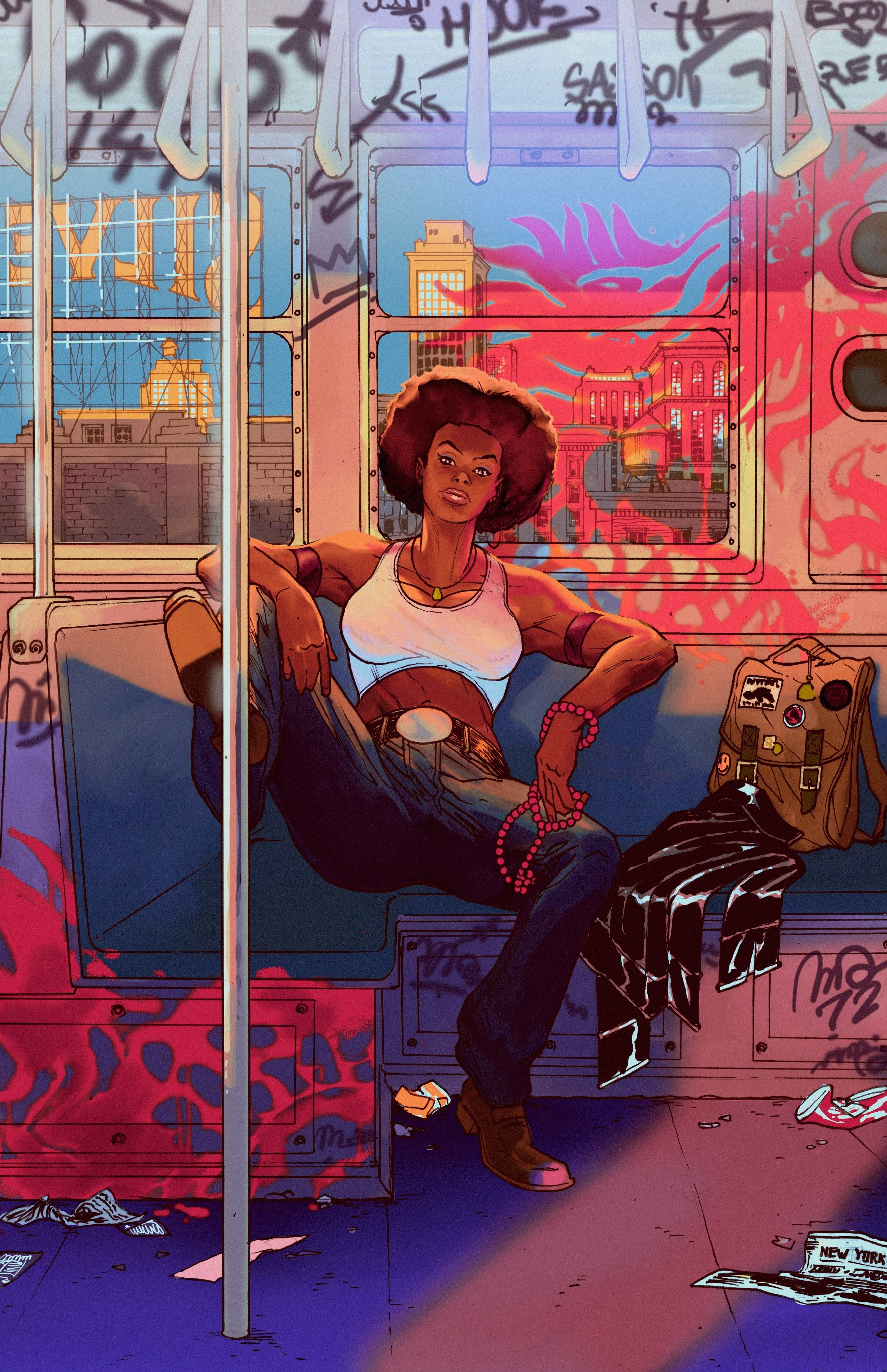 Synopsis:
1969 New York City.


Kiara Moore, a teen from the South Bronx gets mixed up with the most notorious street gang in the city, THE DRAGONS. Not willing to let her only daughter spiral down a life of crime and hardship, Kiara's mother reaches for a lifeline and sends Kiara to Valentine, a local Vietnam vet/bar owner, who runs a kung-fu dojo, teaching and mentoring street kids in self-discipline and self-respect.


But things between the Dragons and Kiara only escalate. Framed for a crime she didn't commit, the teen escapes to the safety of China, to study under Valentine's kung-fu teacher.


Years later, the twenty-something street kid from the South Bronx rises to become one of five elite kung-fu masters, known as the FISTS OF FATE. Legendary warriors of China dedicated to fighting the sinister forces of the far East.


When Kiara's boyfriend, another member of the Fists of Fate, disappears during a trip to NYC, Kiara reluctantly returns to her old hood, determined to find him.
But NYC circa 1977 hasn't changed… In fact, it's gotten worse. Much worse.
A mortal enemy to Fists of Fate has taken up with New York's CHINESE TRIADS, undermining the South Bronx, to make way for a new Triad heroin hub. The old, formidable foe from China's mainland obsesses over learning the Fists of Fate's secret Kung-fu technique known as the PEERLESS FIST. And having taken Kiara's lover, Malik, he'll stop at nothing to discover it.


With nowhere to turn, Kiara teams up with her old South Bronx mentor's current group of teenage kung-fu students to free her boyfriend. A task far easier said than done, as her arch-nemesis has united all the South Bronx's deadly street gangs to wipe out Kiara's old neighborhood and anyone who stands in his way.


Set against the historic NYC blackout of 1977; a kick-ass kung-fu master chick and a bunch of wannabe kung-fu teens, take on every bad-ass gang in the South Bronx, Chinese Triads, an evil kung-fu master of the dark supernatural arts, and his three boss-level baddies.
Inspiration
If you enjoy any of these movies, you're sure to enjoy Peerless
Big Trouble in little china
The story of Peerless is not just about Kiara Moore. It's also about how a musician had an idea and pursued it tirelessly over the course of nearly 4 years. Kris is interested in inspiring other creators to pursue their own ideas. If you would like to arrange a guest appearance--on a podcast, for an in-person reading, or for articles of any kind--please fill out the spaces below and he will be in contact with you within days.